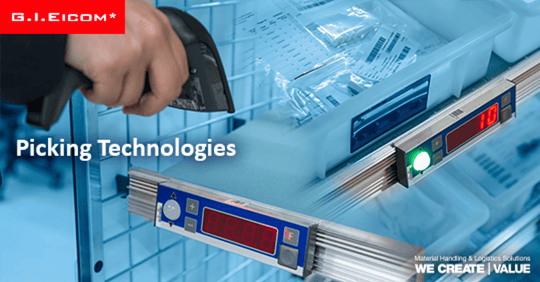 There is no doubt that the implementation of cutting-edge technologies continues to set the standard in terms of efficiency, control and precision in the processes carried out within a Distribution Center.
For crucial activities such as picking, the adoption of automation solutions is no longer an option, but a firm necessity to maintain a highly competitive position within the market.


Today, the incorporation of picking technologies into our assortment processes is essential to streamline them, minimize the error rate in them and, thus, achieve a level of logistical excellence in order fulfillment.
Picking Technologies: Agility and operational certainty
Within DC, picking technologies such as pick to light, put to light, pick to voice or the assortment by radio frequency (RF) allow greater control and productivity of the operation in general, since with these technologies it is possible to extract valuable information about assortment capacity under different operating conditions.
In addition, the picking technologies allow you to track all the operators in the assortment area, providing an analysis of individual and group productivity.
With the adoption of this type of technology, you will obtain advantages such as:
Better organization of SKUs
Elimination of audits in assorted orders
Greater safety in work areas
Elimination of tedious assortment lists
In the end, all this translates into an improvement in competitiveness outside DC, because in addition to increasing efficiency and effectiveness in the internal order assortment, the picking technologies favor the timely traceability of all the products that were supplied.
Increase your service levels with our picking technologies!
At G.I.Eicom we are dedicated to developing solutions that generate value for our clients' processes. We have more than 35 years of experience designing and implementing cutting-edge intralogistics solutions to optimize Distribution Centers. Get up close with the experts!