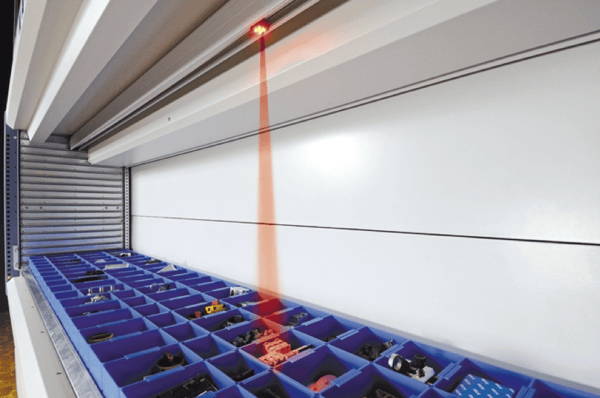 The needs of the industry are becoming more specific due to the regulations required to ensure the quality of the products that customers demand. That is why controlling all the variables of the products is vital, so the implementation of picking technologies is the perfect solution to have complete traceability of the product, making all your processes as efficient as required.
In this blog we will present some Picking Technologies, fundamental tools in the assortment of orders that allow to have better control of the information of each product in real time. In addition, the implementation of the Picking Technologies will increase your productivity in the tasks of preparation of orders or assortment of orders.
Pick to Light
This is a light-guided order selection system. It allows orders to arrive from a server to the assortment line, where luminous display shows the quantity of an item to be filled is indicated in each position. Thanks to the this, the operator receives the necessary information in an efficient way to be able to supply it in the shortest possible time.
This is how the Pick to Light systems reduces errors, adapts to staff turnover, avoids lists of assortments and allows you to manage all the information with its inherent advantages.
Put to Light
Like the Pick to Light, the Put to Light systems works through luminous displays and is characterized because the number of orders to be supplied will always be fixed, but the number of products can be infinite and very variant; meaning that it can work with different types of products. It works as soon as the products arrive, then the operators take them, scan and distribute them to the different orders.
Pick to Voice
The Pick to Voice is a system for medium-high flow of products; this type of technology has the advantage of being able to handle single units with medium and high volumes, or a large number of SKUs.
These are some characteristics of each of the picking technologies which can help you to develop your process and give you the key competitive advantages such as:
Provides real-time information
Provides precision of orders
The information is transferred to the WMS in real time
Allows WMS full visibility of inventories
Offers security and speed in the assortment of orders
Reduce all staff training time
Minimizes human error
Gives quality, experience and certainty
In G.I.Eicom we have the necessary knowledge to be able to offer you the best options to make your industry as efficient as possible. Do not wait any longer and get close to our experts by clicking here.