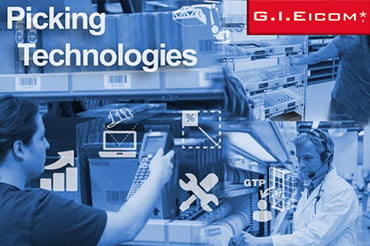 The demands of the market every day require systems and technologies that can help create an effective solution capable of adapting to the growing and increasingly complex needs.
For these requirements there are the Picking Technologies, ideal for the assortment of orders that allow a better control of information in real time and precision that you are looking for your processes. Thanks to its technology you can increase productivity in the distribution center within the tasks of order preparation or order assortment.
To choose the most appropriate method for your needs, it is important to know certain aspects of your selection of orders or picking:
Orders processed per hour
Assortment lines by order
The "ABC" of your products
Warehouse design
Once having this information, it becomes easier to find the ideal solution for the specific needs of your warehouse.
Pick to Light - is a light-guided system that allows orders to reach the operator via WCS Software to the assortment line. Thanks to its technology, the Pick to Light system reduces errors, adapts to staff turnover, avoids assortment lists and manages all information digitally.
Pick to Voice - this solution is ideal for distribution centers, which are extremely long and contact with luminous display devices cannot be easily done. The operator receives all orders to be heard through hearing, keeping his hands free and eyes ready for picking.
Put to Light - thanks to its technology, this solution allows operators to be directed to fill orders through light displays. Put to Light is ideal for a fixed number of orders, but with a number of products "infinite" and very variant. Both this solution and the Pick to Light are tools that work with density, that is, they can be very close to one product of the other and there is no problem because each one has an indicative that distinguishes it.
Thus, Picking Technologies offer considerable increases in productivity, minimization of human errors in assortment, inventory control, group productivity analysis and more.
In G.I.Eicom we have the best technology to provide you with all the solutions to your most specific needs. Do not wait any longer, increase the productivity in the assortment of orders, contact us.