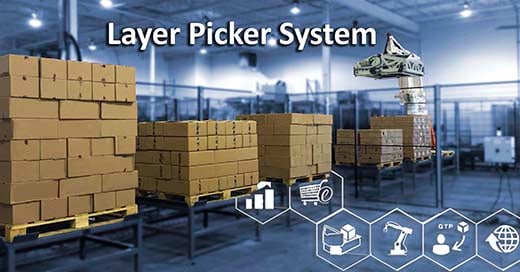 One of the most important requirements within your DC is to create processes with good practices and a palletizing that has a capacity superior to the process. Thus, palletizing can become the final determining step in the success of your processes.
A Layer Picking system is the right answer since it is designed to automatically accommodate pallets regarding robotics technology. In this way you can minimize problems such as rotation, training, errors, among others, thus increasing the productivity and efficiency of your DC.
How it works?
The Layer Picking system receives all assortment instructions directly from the WMS or its own ERP in the DC. Depending on the configuration and assortment logic, the robot autonomously moves to the different product positions from where it will take the units or pallets to be stocked.
The implementation of palletizing robots requires careful selection and support, in addition to requiring a professional application. This is why it is important to determine the specific needs of your DC since within the robotic palletizing, there are different types of tooling, degrees of freedom, sizes, speeds, forms of configuration per pallet. The optimal conceptualization of this type of solution makes this method ideal when the flexibility to assemble different formats is a priority.
Some of the advantages that a Layer Picking system gives us are:
- Labor reduction
- Human error reduction
- Automation reduction
- Possibility of making complex movements
- Productivity increase
Thus, a Layer Picking system guarantees the total effectiveness of the assortment processes within your company. In G.I.Eicom* we have palletizing robots, as well as a team of professionals who will undoubtedly find the best solution to adapt to your most specific needs. Do not wait any longer, contact us and one of our specialists will help you improve your operations.