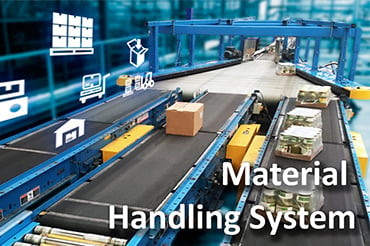 In a production plant, the handling of products is undoubtedly required, especially in companies related to food, personal care, and parcels among others where large flows of products are handled.
Thus, when the quantity of materials to be moved is high, specialized engineering is necessary to ensure that the different flows from different points converge reliably to be transferred to their destination.
Despite this, there are situations that can indicate that the handling of your materials needs an optimization to be able to give you the efficiency that you require and that which the market demands.
To be able to determine more easily if your production plant needs to optimize its material handling processes it is important to ask yourself:
- How much are producing your lines in handling of finished product?
- How effective is the manipulation of your products with operators?
- Inside your plant, how much are you transporting inside it?
- How much shrinkage do you have due to the handling of the products?
- How much rejects/returns do you have for the mishandling of your products within your plant?
If the answers to these questions are alarming, it is necessary to implement a material handling system that allows automating these processes, providing you with the best benefits and reducing the losses that may arise.
By implementing material handling systems among which AGV's & Conveyors stand out, you can have benefits such as:
- Proper handling of materials due the automation of your processes giving order to your production, which is essential if what you are looking for is the growth of your plant.
- Continuous production since material handling systems prevent accumulation at the foot of the line, giving a higher rate.
- Greater control of all your production and so you can better control how much you have in production and how much in storage.
- Real-time statistics through the use of scanner systems that are implemented within the material handling system.
Thus, the optimization through material handling will ensure the quality of your processes and the proper functioning of your production plant. In G.I.Eicom we have the best solutions to optimize all your processes, don't wait any longer and contact us.