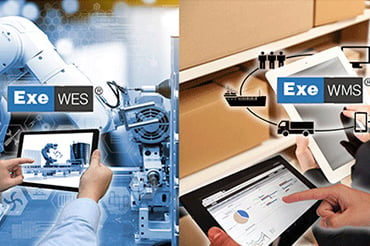 The optimization of the different processes is one of the most demanding tasks within the distribution center. Even with excellent management systems and automatisms, each distribution center can develop superior intelligence when it is possible to enrich and optimize processes and correlate each one with the central management system.
To do this there are 3 types of software that can be used, depending on your specific needs and how automated your DC is.
The WMS or Warehouse Management System is software that improves the organization and optimizes processes and inventory management in real time within your distribution center. In this way, the WMS becomes a system that manages operations 100% such as receipt, picking, assortment of orders, consolidated and even shipping.
Thus, the benefits you will have with a WMS software are:
It considerably reduces errors of any phase of the work process.
Increase your productivity.
Maximize the capacity of DC.
Use each space more efficiently and achieve efficiency in the workforce.
Improves the accuracy of inventory control.
If you continue to automate your processes, it is necessary to migrate to software that can make the whole organization faster, so migrating to a WCS or Warehouse Control System is the best option.
This software will allow you to improve the processes themselves and also enrich the intelligent dynamics in the distribution center. Thus, the WCS is able to interpret changes in the process, being able to manage existing automatisms so it is able to adapt to the changing day-to-day dynamics of the distribution center, providing more productivity and speed in deliveries, in addition to adding precision.
Some of the benefits you will have:
Control variables and automatisms such as Pick to Light, Pick to Voice, Sorters, among others.
Coordinate automatic systems with the required information and orders.
You can have an order balancing and tracking, hardware address and information management in real time.
At the moment that all your processes within the Distribution Center are fully automated, it is necessary that your software has the ability to control multiple automatisms that interact constantly and that its algorithm allows a fast and precise decision on any process, so a WES or Warehouse Execute System is the perfect solution.
Is responsible for centralizing and directing as a decision-maker all existing automatisms within the Distribution Center, becoming the person in charge of these and of the operational issues. The WES ensures that very diverse technologies can coordinate their activities between them. The software help with DC coordination.
Among other advantages, the WES allows:
Control and coordination of all automatisms and processes seeing them as a single system.
Faster and more accurate response times.
Thus, it is important to stipulate well in which automation position you are within your DC in order to find the best option that can help you optimize and maintain better control of all your processes.
At G.I.Eicom we have the best solutions for your needs and your processes. Our software solutions experts are ready to help you determine the best option for you, contact us.