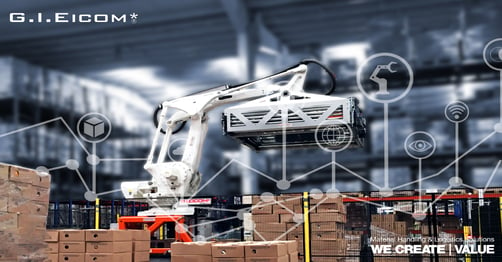 The operations within the distribution center are usually repetitive, which gives you the opportunity to automate them giving you great flexibility that allows you to handle different products thanks to the scope they now have.
Now the robotic systems allow you to stipulate the best way to take the products, combined with vision and learning systems, you will manage the different types of configurations and operations that you require in your distribution center.
Robot Technologies can perform operations that you could not do before according to the specific needs you had within your distribution center so that you can now use them to handle items, boxes or layers.
Thanks to the implementation of Robot Technologies you will get benefits such as:
Labor reduction
Use of people working in the distribution center
In assortment of parts you can grab products and stock them according to specialized boxes or picking stations.
Safety throughout the work process
Provide high certainty to the operation
The quality of the arrangement is high and uniform
Greater flexibility regarding the assembly of orders and the intervention of man with the machine.
It allows to increase another product and another type of mooring pattern inside the platform.
Easy to program to palletize different presentations in different types of arrangements and platforms.
Return of investment almost immediately thanks to the productivity of Robot Technologies.
Thanks to all these benefits, these technologies are used in different industries such as food, beverages, personal care, pharmaceutical, among others.
Without a doubt, the implementation of these systems will give you endless benefits within the processes of your distribution center. In G.I.Eicom we have the best solutions that will help you automate your processes to cover all your needs. If you want advice to find the best option for your needs, do not hesitate to contact us.