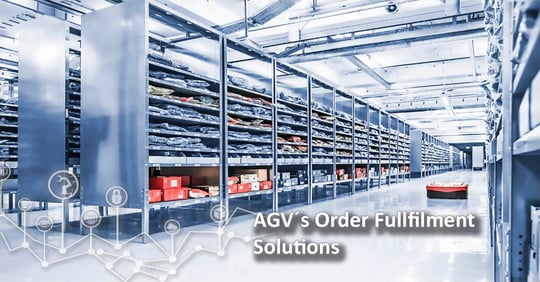 As we know, the assortment of orders is the operational core of the Distribution Centers. Its level of effectiveness substantially influences both the overall performance and cost structure of DC. Therefore, it is vital to surround yourself with the best systems that allow you to satisfactorily meet customer demands.
With the new technologies that have revolutionized and are present in Industry 4.0, today we find various types of collaborative robots that, in addition to favoring much more efficient order fulfillment, allow an environment with job security in accordance with international regulations.


In this blog we present you the ideal solution for successful order fulfillment at the item level: the ¡Automated Guided Vehicles (AGVs)!
AGVs are one of the technologies with the greatest tendency to be used in DC to carry out this type of order fulfillment, as it provides unmatched flexibility to the order fulfillment process, in addition to a considerable increase in the operational productivity of DC.
AGVs are considered within the Good to person solutions in order to bring the unit products closer to the workstations so that the staff can take them and then supply them to the corresponding order consolidation area.
A great advantage of this type of robots is that they allow you to place several workstations during a completed assortment line, so the productivity of order fulfillment increases as more AGVs are incorporated.



But, what about the cost of investment?
If what you are concerned about is the investment cost associated with this type of technology, don't worry!
Although exorbitant investments were previously required to acquire any type of robotic systems, the reality is that today they have become much more accessible to the industry; resulting in a fairly attractive return on investment.

At G.I.Eicom we are dedicated to designing and implementing fully customized intralogistics engineering solutions. We have the most advanced technologies on the market to maximize the performance of your DC.
Achieve efficient and accurate order fulfillment with our solutions! Contact us today!