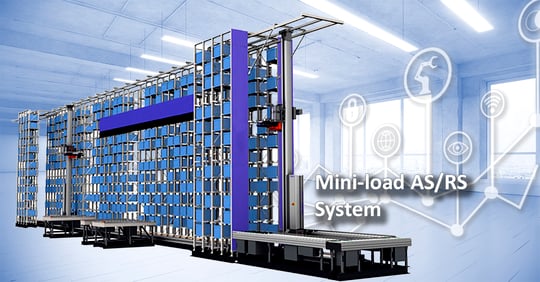 We know that by handling a high volume of small parts within raw material warehouses in the manufacturing industry, especially in electronics and auto parts, precise control of product traceability becomes essential.
However, many companies try to achieve this goal through manual solutions that involve a high margin of error in material handling.
That is why in this blog we will share some reasons why miniloads are one of the ideal solutions to store and stock your materials in an automated way, minimizing the margin of error in their handling and providing the security and control you need.
Operation and advantages of miniloads
Every time you enter a new product into the miniload, it receives it by scanning it to move it to the position that the system automatically determines.
Thanks to the intelligent control provided by the Warehouse Control System (WCS), miniloads allow:
Establish parameters based on FIFO, LIFO or other inventory management method.


Keep the serial number of the product.


Have absolute traceability of the product.


Keep an effective control of suppliers (when you have several suppliers of the same product).


Configure parameters so that the system brings the product from a certain batch or supplier first.
A great advantage of miniloads is that you can adjust them according to your operational requirements while guaranteeing controlled access to your products, so that any access that is not allowed or outside of conventional operation is registered in the system.
Thus, the miniloads with the support of the WCS allow you to properly protect your merchandise, maintaining a specific control in real time.
At G.I.Eicom we offer you the most advanced miniload systems on the market. We have more than 35 years of experience designing and implementing automated storage solutions and custom intralogistics engineering. Contact us and get more information!