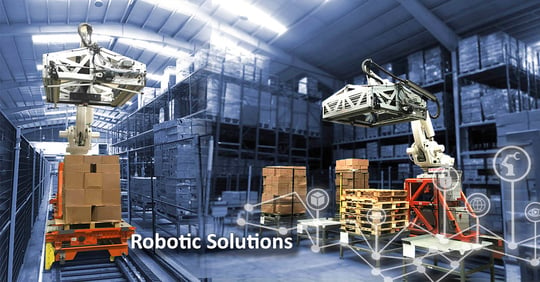 When the pallet is used in a production plant as a logistics unit to store the finished product, one of the critical points of attention to prevent shrinkage is the rate of pallet collapse derived from poor accommodation, poor handling, or a damaged product that was not detected.
That is why in this blog we want to share how automatic palletizing systems help to avoid all these quality control issues, making it a successful process in the plant.


Palletizers or automatic palletizing systems are technologies designed to automatically accommodate boxes on pallets, so that productivity is increased substantially, as they have the versatility to handle one, two or several lines simultaneously.
We could divide the palletizing systems into two groups: robotic and conventional.
Robotic palletizing systems are ideal when a priority requirement is the flexibility to assemble different formats and several low flow lines. On the other hand, conventional palletizing is the appropriate solution when handling high product flows, but with less versatility to handle multiple lines.
Palletizing type

Palletizing speed

(boxes per minute)

Robotic

Up to 25

Conventional: Bottom feeding

Up to 45

Conventional: Top Feeding

Up to 200
Both robotic and conventional palletizing systems are capable of creating complex patterns and handling a wide variety of package types. Actually, the key to being successful in the palletizing process lies in selecting the correct system according to your operation.
Some of the most important factors that you should consider for this are:
Number of products and patterns
Type of product
Current and future flow rate (boxes per minute)
Type of accommodation required
Pallet feeding method
Availability of space
Climatic conditions (temperature and humidity levels)
In this way, you can guarantee the highest quality to your finished product during its handling, avoiding any type of waste


Reach out to the experts in palletizing solutions!

At G.I.Eicom we offer you a wide range of palletizing systems developed with the best technology on the market. Our team of specialists will help you design and implement the optimal system that will allow your plant to successfully complete its operation.
Contact us and see why we are the leaders in the intralogistics solutions market!