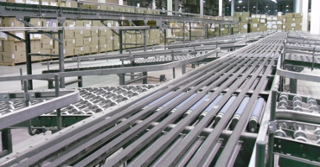 The sorters or classifiers are a productive tool that if effectively implemented, locates and classifies products to different areas where they are required. These mechanisms require optical devices such as cameras or code readers; which optically locates products considering their shape, color, label, or others. Once they perform this action, they send it to areas where it should be ready.
The distribution centers of the industries of food and beverage, healthcare, pharmaceutical, paper, textile, among others, often require a good sortation system.
Because of the variety of products, and the output rate, they exist different sorters that we show you below:
1.- Diverter
The sorter diverter moves the product onto a conveyor. The diverter, which is an electro-pneumatic or electric device, is activated when detected, pushing it toward the indicated output.
Rate: from 1 to 40 cases per minute.
Products: not so regular shapes, not necessarily of flat and rigid bottom. It can handle products from very small and light as CDs, glasses, medicine (here the flow can be handled up to 100 items per minute) to heavy packages and regular sizes up to 75X75X75 cm and weight of 30 kg.
2.- Pop up / Narrow Belt
The function of the sorters Pop Up and Narrow belt is to divert the product by a mechanism located at each output. The product is pushed upward while it is turned out (a previous analysis of the operation is required to determine which of the two sorters accuracy is a better proposal).
Rate: flow between 60 to 90 cases per minute.
Product: rigid and flat bottom, suggested weights up to 20 kg.
3.- Shoe sorter
The Shoe sorter has the most advantages after its implementation. The way in which the product is diverted to the output guiding, through a hidden mechanism driving the paths to the required output. It's pretty gentle regarding the handling of products but is more expensive than the latter. With this tool you will have more confidence in your operations while providing higher rates.
Rate: handles a flow of 95 to 230 cases per minute.
Product: needs not necessarily to be a rigid or flat bottom, weights up to 40 kg and sizes of 70x70x70 cm.
It can run at high speeds, provided that efficient induction area is taken.
4.- Cross belt
Cross belt sorter is widely used for the shipping industry and in general when a large number of outputs are required for its high productivity in the assortment of products.
Rate: 0 to 400 cases per minute (depending on the implemented industry).
Product: accepts products with irregular shapes. It can be driven from a letter, boxes, cylinders, to heavy product. Also, it provides many outlets glued one after another, the other sorters fail to do it. It can operate products up to 40 kg and sizes of 70x70x70 cm, even above a meter lengths.
5.- Tilt tray
The tilt tray sorter operates by trays that when they reach the correct position, they lean forward and drop the product. Like the Cross belt it is for demanding operations, but must be analyzed under the operation, type of product or industry.
Rate: 0 to 300 cases per minute.
Products: usually different packages, which can be small or large, amorphous or regular, light or as heavy as 50 kg and lengths over one meter. This sorter is particularly suitable for rough operations.
Tilt the tray sorters and belt Cross are multi-induction, that is to say, have different entry points where different range of products are input.
6.- Vertical Sorter
The Vertical Sorter helps divert products to outlets in different plane (top, middle or low). Usually they have up to three outputs and can handle flows of heavy cases, up to 50 kg and sizes up to 80x80 x80 cm.
Rate: 0 to 60 cases per minute.
Product: Preferably regular consistency, rigid and flat bottom.
All sorters must have a brain that gives them intelligence for their operation. The WCS desortation module helps to implement the correct application that cover customer requirements, it allows teams to coordinate the required information and orders.
GIEICOM increases your profitability, productivity and capacity, using different sorters with cutting edge technology, which meet and exceed your expectations. Come to a GIEICOM specialist, who will be willing to support you.