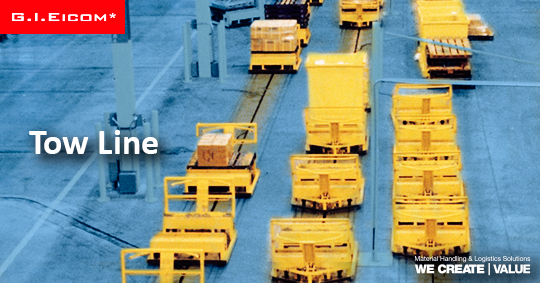 One of the main critical points within a manufacturing line that handles very bulky products is the safe and efficient transfer of materials.
For operations of this type, the tow line turns out to be a great tool to ensure a high level of efficiency in manufacturing lines, since it is a system that provides:


Stable product displacement, regardless of weight.
The possibility of having a continuous line due to its ability to travel through multiple workstations at constant speeds.
What is the tow line?
The tow line is an underground transporter, consisting of a robust chain that tows several cars at the same time. Each trolley can be configured with different dimensions and shapes according to the type of products to be moved.
One of the advantages of the tow line is that it can be very long with multiple drive units, compared to a conventional conveyor system. In addition, the tow line is a long-life equipment that practically requires no maintenance, making it extremely reliable.
Its design flexibility is ideal for handling products of large weights and dimensions in heavy manufacturing industries, such as manufacturers of tractors, trailers, trailer cabins, etc. It is also very useful in sectors such as metalworking, where in addition to handling heavy products, high temperatures can be handled.
For any industry where there are conditions of difficult access to personnel or complicated handling of products by weight, volume or temperature, the tow line is undoubtedly the solution par excellence.
At G.I.Eicom we have more than 35 years of experience designing and implementing the best turnkey solutions to systematize and automate product flows that optimize your operation.
Whatever your need, at G.I.Eicom we are ready to solve it.
Contact us!