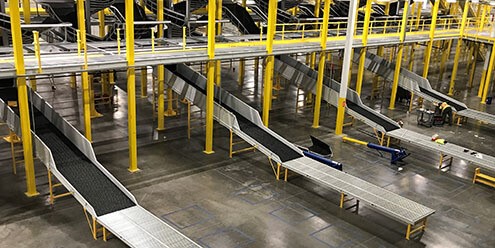 There are many challenges faced by a logistics director in the courier and parcel industry, having to handle products of different shapes, weights and also to transport high volumes.

To meet the expectations of customers, in this type of scenarios, high flexibility equipment is required to handle more varied amount of products in the most efficient way possible, ensuring the care of the product and its distribution in time.
Having a sortation system is the ideal option to improve processes and intralogistics in your HUB. This type of systems combine transportation, deviation mechanisms, controls and software that allows you to classify medium and high flows, which makes them the ideal option for your parcel industry.
The benefits that a system of sortation brings you to improve your intralogistics are:
Labor model reduction
The sortation systems are 100% automatic. This helps your HUB have less labor since all the processes you need to perform are executed automatically. In addition, the technology of these systems has a great versatility in the configurations, with multiple outputs and trajectories, taking advantage of the productivity of your HUB.
Control and greater traceability of your products
The products will be classified in their exact route thanks to the automatic barcode scanning. The technology of the sortation systems will allow that the correct route is identified and the product is directed towards it giving you an exact inventory of the products that arrive and leave your DC.
Verification
Sortation systems allows you to monitor the weight of all the products from your entrance to the HUB, improving its traceability since you can guarantee that the information of the product matches what is registered. In addition to having better control, this variable results in a revenue recovery method since it allows the company to perform a double evaluation of the product's characteristics (volume and weight) thus having information without error.
Error margin reduction
The automation, as well as the verification and the greater control that this allows you, reduces the margin of error that you can have during any process inside your HUB.
We know your concern for obtaining the results you are looking for without compromising the order and quality of the service you provide. That is why we care about giving you the best solutions for the intralogistics of your HUB.
If you want to know more about the benefits of implementing a classification system in the parcel and courier services click here
In G.I.Eicom we have the best solutions in order for you to stay at the forefront and your processes becoming faster and faster. Come with our experts to help you improve the processes of your industry. G.I.Eicom has the best options for you, contact us.