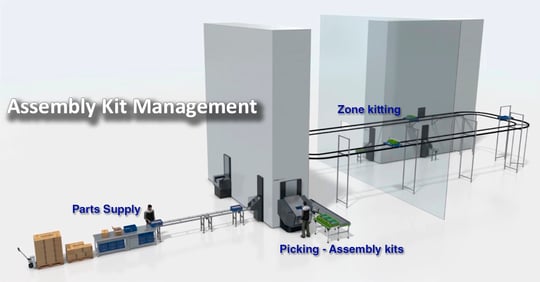 In order for a manufacturing line to be as continuous as possible and to have the least amount of rework or retrofits, it is essential to find a way to guarantee that all the parts or kits of the different workstations are available at the precise moment required in the line.
For this reason, it is important to select the correct method of storing raw materials that allows the kits to be supplied in a timely manner and that, in turn, results in the finished product warehouse not being 100% dependent on the times or productivity of operators.


That is why today we want to show you how automated storage solutions minimize the lost time of a manufacturing line.
As you know, there are different automated storage systems that work under the principle of "Good to person solutions", that is, they bring the product closer to the person according to the kits that are assembled. For example, we find:
Uniloads
Vertical Buffer Modules
Verticales and horizontal Carousels
Shuttles
When these systems are combined with other types of assortment practices such as batch picking or parallel picking, the possibility of simultaneously supplying several kits of different types of combinations is obtained; which is especially useful nowadays, since the demands of personalized production are increasing more and more and these configurations allow knowing when the product will be adjusted in the assembly line.
And how do I know which solution I need?
It is very important to remember that to select the right automated storage tool, you need to consider the following factors:


Products quantity


Order fulfilment velocity


Required storage capacity
In this way, when the ideal automated storage solution for the plant is already selected, thanks to its synchronization with the MRP (Manufacturing Resource Planning), the system will begin to supply the products in real time, so that when they are required in the manufacturing line, this will bring them closer to the workstation buffer.
When the buffers are very small, it is recommended to opt for vertical carousel-type solutions, as they are storage systems that allow the item being assembled to be scanned to automatically present the kit that is needed.
Discover the power of automated storage solutions with G.I.Eicom!
We have more than 35 years of experience providing comprehensive services in the design and implementation of intelligent automation solutions. We want to be your allies to boost the productivity and competitiveness of your manufacturing plant. Contact us!